Spend less time running around and more time in front of customers where service is KING using 'Service Button'
In today's competitive salon and spa markets, customers demand the best treatments at an affordable price. SYSCALL has a comprehensive line of wireless calling system to provide business a wireless on-site messaging solution to improve efficiency and customer service in their daily operation. The goal of all SYSCALL products has been to increase your revenue while decreasing your overhead and expenses.
SYSCALL will help your business grow.
Request More Info
Wireless Calling System
Customers press the service button, when they need further services.
The staff is able to response immediately.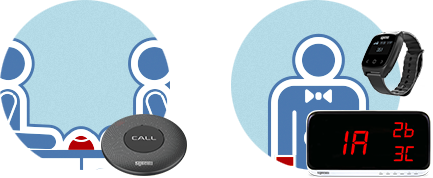 Wireless Guest Paging System
Wireless Staff Paging System
When manger calls staff, it will be displayed on staff's pager.
Staff can notice which manager calls them.